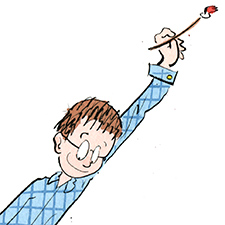 Eric Sailer was raised in Pennsylvania, close to the infamous landmark where Washington crossed the Delaware (a historical moment that continues to marvel him). Since his childhood, he was fascinated with art, picture books, cartoons, and comics. One day, he realized that he liked drawing funny pictures and writing funny stories.
His passion propelled him to pursue illustration at the University of Delaware. In 2009, his artwork was featured in the Society of Illustrators' Annual Student Exhibition. In 2013, he received the Honorable Mention award from the NJ-SCBWI juried illustration showcase. He then built on this success the following year by winning the 2014 NJ-SCBWI Best Unpublished Illustrator showcase!
When he isn't drawing, Eric can be found playing his guitar, reading silly and serious books, and enjoying a good cup of tea. Currently, he lives in New York, NY close to the Metropolitan Museum of Art and Central Park where he likes rowing the boats. Eric likes cats too.
For any illustration inquiries, you can email.
Eric is represented by Paul Rodeen of Rodeen Literary Management.